Fairfax Grounds Project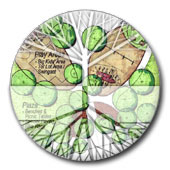 Faifax Neighborhood Network is a Not-For-Profit Corporation that was established in 1999 by a group of Cleveland Heights residents in response to the closing of the Heights YMCA. After helping to facilitate the purchase of the Y-building by the CH-UH Library and provide input to it's community use, FNN decided to focus its efforts on the renovation of the grounds at Fairfax Elementary School.
Meeting with members of Cleveland Heights School District, Fairfax PTA, and the Cedar Lee Merchants, FNN recognized that the enhancement of the Fairfax Elementary School Grounds was an opportunity for the entire community. Given the attention of the Library's rennovation and community efforts to enhance the Cedar-Lee corridor, FNN sees the Fairfax grounds as a great school and community resource and identifies it's role in this project as a catalyst and facilitator. FNN desires to bring together various groups, institutions and individuals to see that the project is properly planned and implemented and seeks to ensure that the City, school district, area residents and the business community are fully involved in the process.
The Plan
The 1989 masterplan for the Fairfax Grounds (also used by FairPlay to construct the current wooden structures and nature area) was used as a base in meetings with FNN members, the Fairfax PTA, Jacky Brown, principal of Fairfax, James McKnight, CHUH landscape architect, and Dave Boyer of Cleveland Heights/University Heights Schools to discuss ideas for updating the masterplan to reflect the following ideas:
Updated playground facilites
Increased student safety and monitoring
Better facility parking and circulation
Upgraded Lee Road landscaping and building frontage
Better community usage and green space
The result of this input is an updated masterplan and cost breakdown that provides a way to both fund and phase the Fairfax Grounds Project
Phase One
The masterplan outlines an ambitious set of improvements that involve (and will eventually be funded by) all concerned parties: school, city, and community.
Phase One has been identified as upgrades to the existing school playground equipment and the Fairfax PTA and FNN have kicked off fund-raising efforts targeted at this effort. FNN as a not-for-profit 501-C organization will act as a the fiduciary conduit for this fund-raising campaign and will work closely with the Fairfax PTA to coordinate and communicate fund-raising events and progress towards goals.